Dear Pilates clients,
Second month of the new year is already into full swing and we've started started up some classes again.
We'll try to accommodate the previously set timetable as best we can so people can stick to their weekly routines. Some class times may change and some classes are not covered with a teacher yet, where Dana is on maternity leave.
We'd like to introduce Brigid Pearse, for whom of you did not meet her yet.
Brigid started teaching for us at the end of last year and brings a lot of fine detailed movement focus into her teaching effort.
She is a movement practitioner with 20 years of experience. As a dancer she had a keen interest in using dance to help people experience and understand their anatomy. She discovered Pilates 15 years ago and looks forward to teaching it for many years to come.
Brigid received her Pilates instructor certification with the Body Organics studio in Brisbane. Body Organics is a comprehensive multidisciplinary practice which gives their students a deeper understanding about the integration of movement and biomechanics. Their knowledge base comes from various movement professionals such as, physiotherapists, exercise physiologists, podiatrists, paediatric specialists and so on.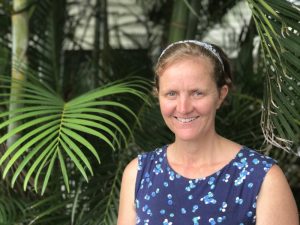 Following class times are offered at this point in time:
Mat classes:
Monday 9:30 am
Wednesday 5:30 pm and 6:30 pm
Saturday 9:00 am
Equipment classes: 
Tuesday 3:00 pm, 4:00 pm, 5:30 pm and 6:30 pm
We are also looking into covering the Thursday evening equipment class time slot.
If we find enough expression of interest another teacher would be available to start a Tuesday morning 9 am mat class.
The booking system
Please note, we encourage all clients to use the MindBody online booking system, either through "bookings" on our webpage or with installing the MindBody App on your smartphone or tablet, whichever is more convenient for you.
The booking system allows you to look up the current classes schedule, including information on class vacancies, as this changes during the run of a week.
If you purchased a pass it also allows you to to follow up your class credits and the history of your visits.
It is useful for us as a business, as the teachers can get a heads-up on how many people and who will attend a class, which is necessary information, especially for the equipment class teachers to prepare the class programs.
What is the MINDBODY® app?
"The MINDBODY app® is a free mobile app that links you to a worldwide network of MINDBODY businesses. You can browse classes, book appointments, and buy passes from opted-in businesses in your area. If you've added a credit card to your account, or received a gift card from the business, you can even pay before you arrive."
What if I've already created an account online?
"You'll still need to sign up for an account through the MINDBODY app. Your mobile account is separate from the profile used at your local business.
When you register with MINDBODY, the app searches for existing MINDBODY profiles and syncs them to your mobile device. The syncing process works by matching two pieces of information across accounts: your email address and your first and last name. Once synced, you can access all of your previously purchased passes directly from the app."
In the following file  Mindbody booking instructions.pdf  we tried to give you a run down on how to log in with either using the App or through the Ballina Pilates website.